Bun thit nuong
04/10/2020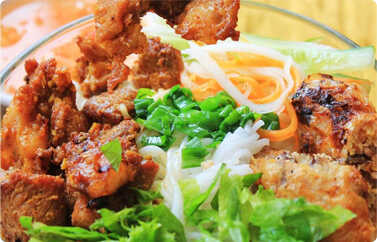 Making:
– Sweet potatoes wash the soil, peel them and soak them in a salt water bath to reduce bruising, then take them out, wash them and then put them in a steam bath with high heat. About 10 minutes, potatoes are ripe, put the potatoes in a bowl to mix the flour, use a fork to blend the potatoes.
Slowly add the flour to the stirring, followed by salt and sugar. Then form a hole in the middle and add the eggs, milk, and gloves to the dough. While kneading the potato is smooth and blended with the flour and other ingredients (add milk slowly until the dough has good adhesion).
Sweet potatoes soaked in sesame and fried in gold. (Photo: FB Hoang Thuy)
– When the dough is fine, divide the dough so that they are equal, round up the sesame seeds on top and press the cake slightly flat, doing in turn until the end.
– Put the pan on the stove, hot pan for about 2 tablespoons of oil, fry the cake over medium heat. When the crust is golden, turn it over and continue frying.